Below you will find some of the questions asked by our client's families in the past. For further information, please call us directly at (520) 881-4477.
Soreo Food Drive
---
Soreo is initiating a food drive for families in need.

Non-perishable items can be brought to the office at:
2475 E. Water Street
Tucson, AZ 85719
Monday thru Friday
Between 8:30am and 4:30pm
This will be an on-going effort so please stop by!

First Fridays of the Month – Free to the Public!
Process takes about 60-90 minutes
Remember your loved one and honor your journey through grief as you create a keepsake Memory Bead necklace. Memory Beads is a creative process to honor your grief journey as you cope with the death of a loved one, created in loving memory of Dr. David Jacoby.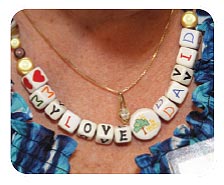 6:00 pm starting January 2015
At Tu Nidito in our Memory Beads Room
3922 N. Mountain Ave. Tucson, AZ 85719
Call in advance to sign up.
Space is limited for each session with 8-10 people per session.
Please call Molly to reserve your space. (520) 322-9155.